What does it mean to build a community?
Nearly 500 people impacted by breast and gynecologic cancers gathered to explore that question in the southern Catskill Mountains in Rock Hill, NY at Camp Breastie. Over four days, Breasties had time to reflect alongside fellow previvors, survivors, thrivers, caregivers, and experts through panels, topic-based discussions, presentations, and casual chats.
Three panel discussions, Like/Comment/Share: Finding Your Voice, Finding Your People + Building Community on Social Media, The Power of Sharing Your Story As Underrepresented Groups, and Advocacy: The Power of Using Your Voice to Make an Impact, zeroed-in the power individuals stories hold to create change, both for themselves and for their broader communities.
Take Your Time to Find Your Voice
Finding your voice, whether on social media, as an advocate, or simply as someone affected by cancer, isn't a straightforward process.
"With cancer, there's no right or wrong," said Sheila Marie Johnson, a 25-year United States Air Force military veteran living with metastatic breast cancer. Sheila uses her voice as a research advocate, pushing for the inclusion of Black communities in clinical trials.
For Sarafina El-Badry Nance, an Egyptian-American astrophysicist and BRCA-2 previvor, being active on social media was part of her daily life as a science communicator. Sharing her story, she explained, was about being true to herself.
"I didn't know how to be authentically me online without sharing," Sarafina said. "It felt like a necessity for me."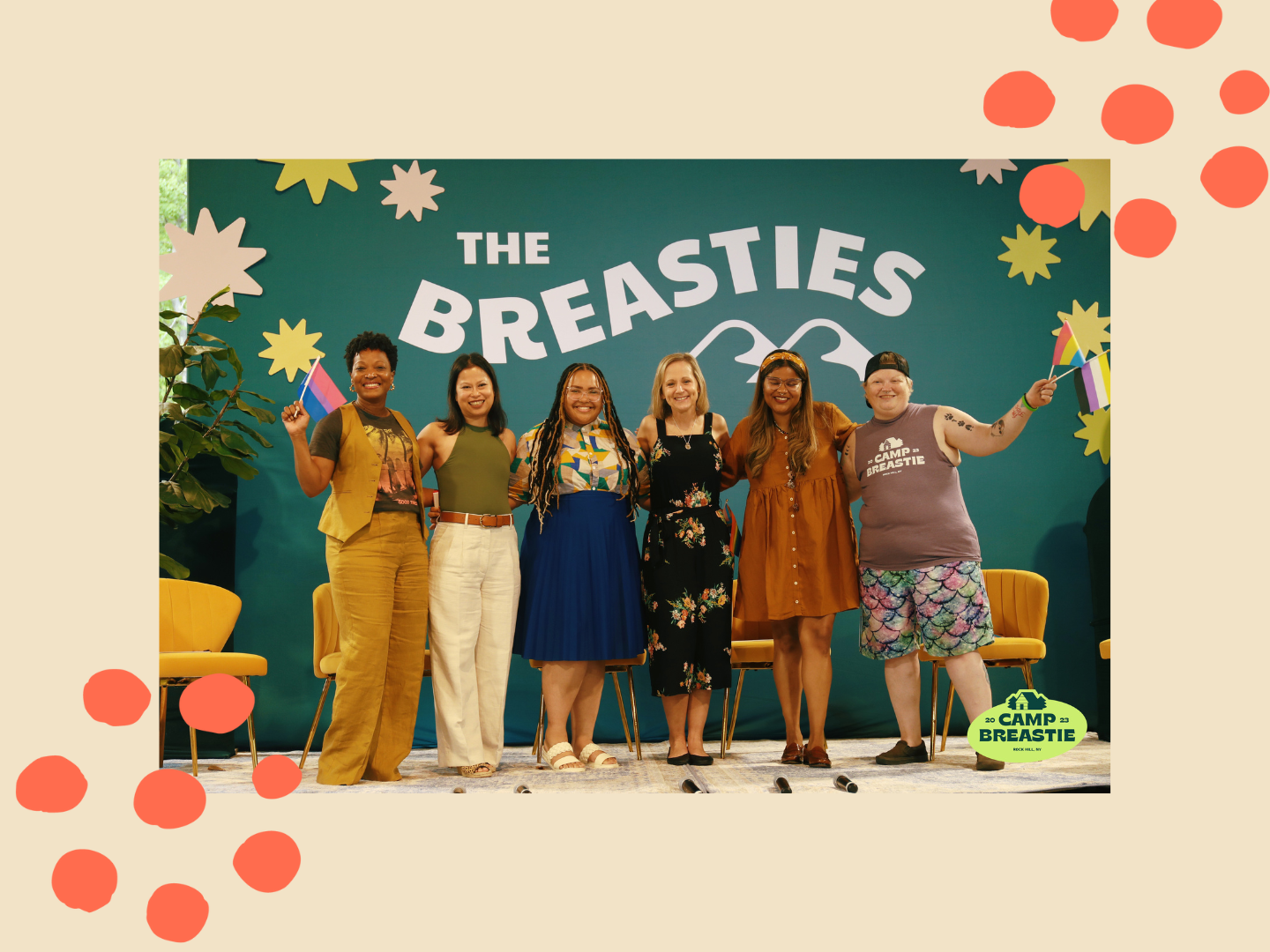 A throughline for many who shared their stories at Camp Breastie, however, was the desire to both be and make others feel seen.
Lindsey Baguio Gerhard, an American-Filipina writer, health advocate, and breast cancer survivor, said that despite connecting with hundreds of Breasties, she didn't see herself reflected back, so she wanted to be that for others.
"Whatever you need is what you should put out there," said Breasties co-founder Paige More. "Start sharing that. If you can't find what you need, that's your opportunity to create it."
And that is also what Victoria Price did in sharing her story online to create visibility as a young Black survivor.
"There is someone out there who is alone and is not going to benefit from me keeping this to myself," said Victoria.
Other Breasties echoed Victoria: sharing your story and being an advocate can mean creating the change others in the community need. For Afro-Indigenous Colombian Previvor, Carevivor, and DEI Committee member Micah Perez, that advocacy is rooted in pushing against racist systems and institutions that impact the care that non-white cancer patients receive.
Perez shared the challenges she faced as a caregiver when communicating the pain her mother was in, offering the experience as an example of systems that allow race to affect how a patient's pain tolerance is perceived.
"Your pain is valid. Whether it's emotional, physical, connected, or separate; it is valid. No one can take that away from you. If you are a BIPOC person–a Black, Indigenous, person of color, or anywhere on that spectrum, combined, separated–you deserve to be heard and attended for."
"That's the barrier that we're all up against," she continued. "How do we abolish what exists and make it something new?"
RELATED: What the Community Wants You to Know This Caregivers Day
It's Okay to Move at Your Own Pace
For those who shared their stories on stage at Camp Breastie, knowing the why was just the first step. Deciding how and when to share is another thing altogether.
"Advocacy is a word that I've struggled with," admitted Kennedy Patlan, a BRCA-1 previvor and member of The Breasties' DEI Committee. "I think advocacy can take different shapes and forms."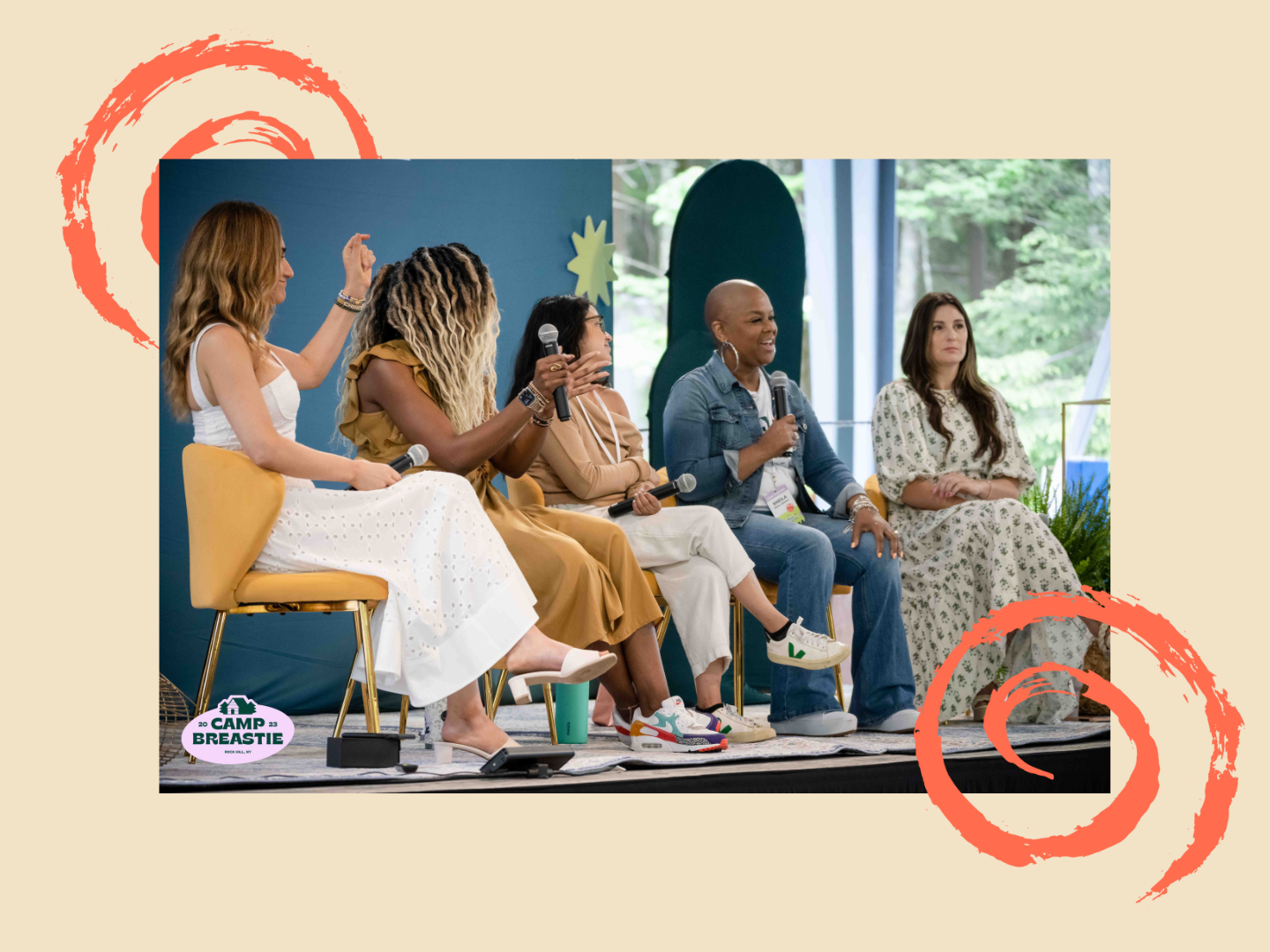 She continued that you don't need to be public on social media to be an advocate. "It can be an individual journey."
"You can build any platform you want," echoed Trish Michelle, The Breasties' Chief Community Officer. It could take the shape of a journal, a blog, or a private Instagram account–whatever allows you to get your story out there.
Asha Miller, a storyteller, advocate, and breast cancer survivor, said her's was "a slow and steady process."
"Advocacy first means advocating for myself in a doctor's office, advocating for my pain, then advocating for others in my community," she said, recalling a powerful moment when she told her oncologist the decisions made in that office were ones that impact her daily life.
The shape your story takes can also change as your motivations do. Shauna O'Brien, breast cancer survivor co-host of the podcast Too Young for This Sh*t, said that she didn't let those in her personal life know about the show for its first two seasons.
Doing so allowed Shauna to document the experience for herself and speak openly without worrying about other people's thoughts on how they were portrayed.
Impact Takes Different Shapes and Forms  
The impact of sharing your story, whether as an individual hoping to make someone feel seen or as an advocate pushing for policy change, is real and cannot be overstated.
Dr. Elisabeth Potter, an Austin, TX-based board-certified plastic surgeon who is leading the fight against coding changes that limit access to certain breast reconstructions, shared with Camp Breastie attendees that the community stories shared with policymakers appeared to be moving the needle in the right direction.
"That's thanks to the patient voice," said Dr. Potter. "That's what moved the scales."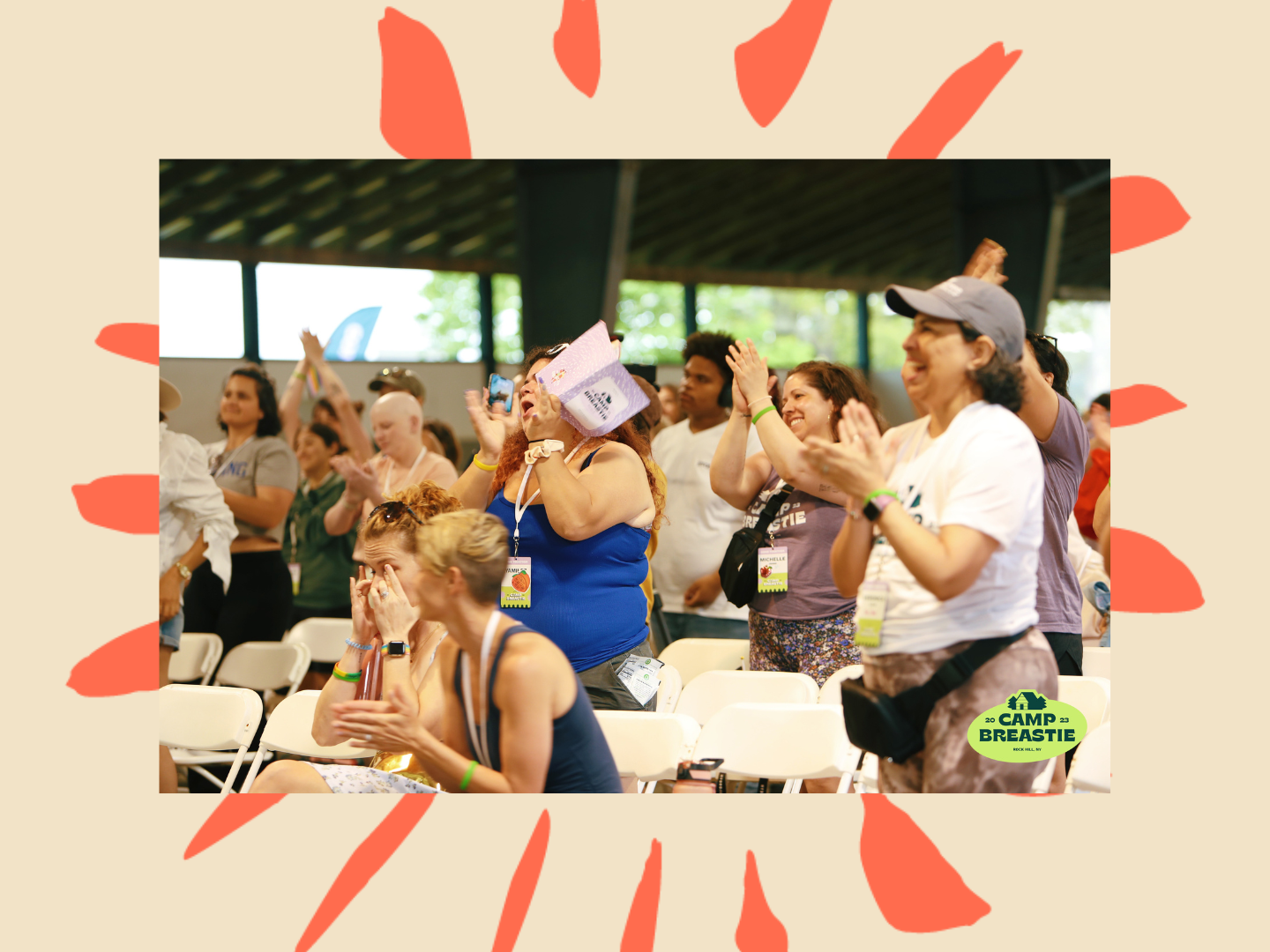 For Shirley Pattan, a metastatic ovarian cancer thriver and DEI Committee member, raising awareness and sharing her story has been lifesaving.
Following her diagnosis, Shirley said that her sister sought a preventative oophorectomy which led to her own cancer diagnosis.
RELATED: 10 Tips to Prepare for Your Upcoming GYN Surgery
"If I saved my sister's life, even if I was later stage… If I save just one more life, it's worth it."
Such is equally true for Dena Goldberg, a CA-based genetic counselor known as Dena DNA on Instagram, who uses her platform to educate both the public and fellow healthcare providers about the importance and accessibility of genetic testing.
"I have someone messaging me every day saying they learned something from one of my videos and requested genetic testing and got it," said Dena.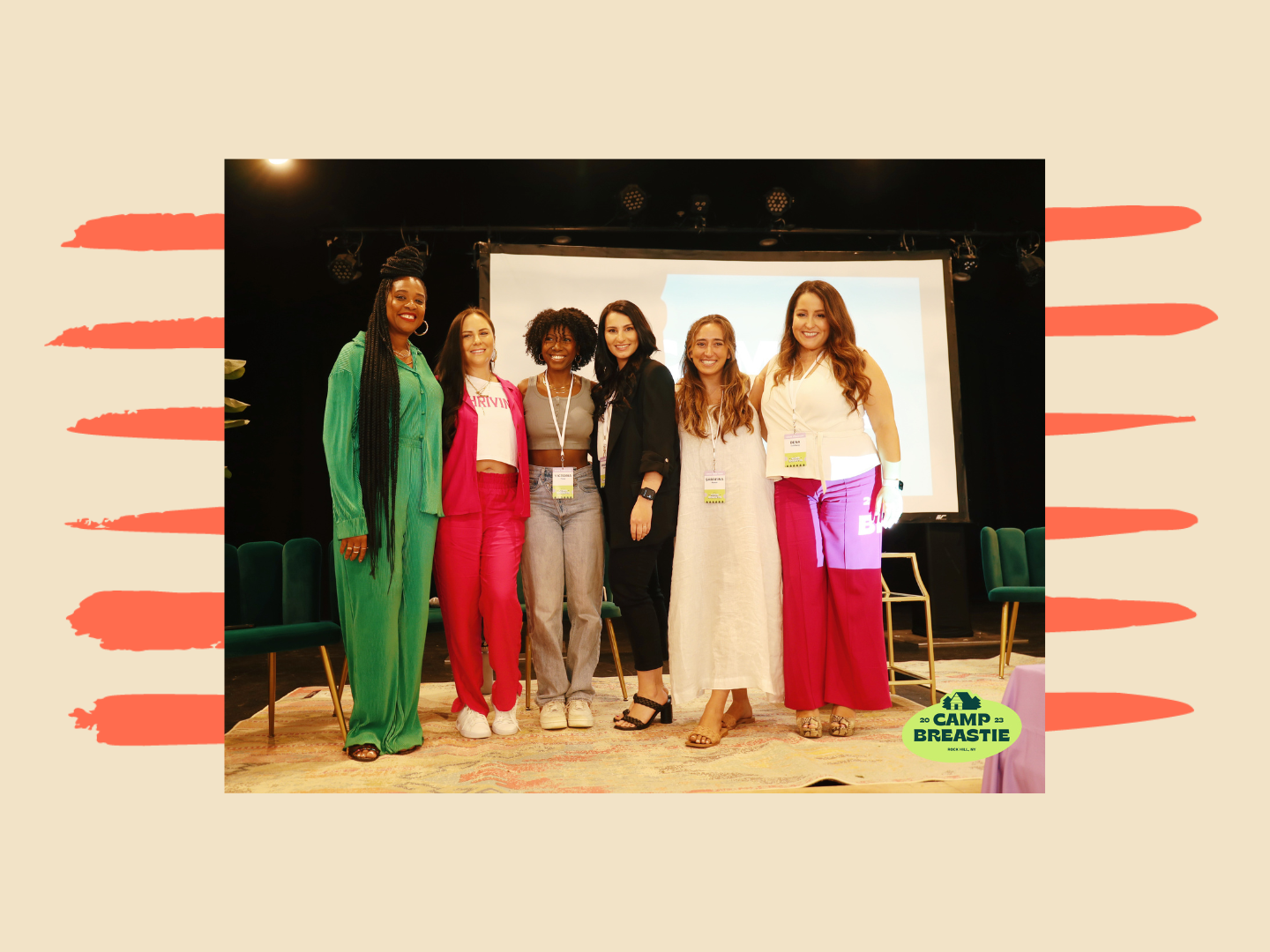 For others, the impact can be felt on a more personal level. Following her diagnosis, Mariah A. Crenshaw, a queer Black breast cancer survivor, and DEI Committee member, found that boudoir photo shoots helped her feel empowered following cancer treatment.
"I needed to feel like myself in some capacity and accept my new normal because my old normal wasn't coming back."
Tips For Starting to Share Your Story
When it comes to sharing your story, start by looking around you.
"Find your people within the community," shared Stephanie E Seban, a health advocate living with stage 4 breast cancer diagnosis and co-founder of Thrive Gang.
"You have to find out what you're passionate about," said Sheila, suggesting that those who want to get involved but might not know how can start by asking community organizations what they need and how they can step up.
"Don't go in there just cause they invited you. Make your own table."
When it comes to being the force driving things forward, Kennedy shared, "With advocacy, you can also step back. Know when to step back and let someone else carry the torch. It doesn't always have to be you and it shouldn't always have to be you."
And remember, Rei Hiroki, a non-binary breast cancer survivor and DEI committee member shared, "Your story is someone else's guide."